The Mystery Men of Ignite – Revealed!
Today, an announcement of something VERY fun! I see you sitting out there wishing you had more fun, trolling the internet for something entertaining, intriguing, and fun. So here's the deal – Entangled Suspense has a new handle – Ignite. Get it? Hot books about suspenseful, scary stuff with edge-of-your-seat stories, hot guys and dangerous women. Okay, not dangerous so much as interesting – and falling in love. Which can be dangerous, but that's another blog post.
Anyway, we at Ignite who have current releases out there in the wild are having an event this Thursday night, August 8, from 7-9 EDT over on Facebook to celebrate the new, improved, awesome romantic suspense line at Entangled. We're calling it The Mystery Men of Ignite – Revealed! I and seven other Ignite authors will be posting clues all week on our websites, and Thursday night, all will be revealed. You can win a $100 Amazon gift card and other prizes. Deets are here. You will also see the men who inspired our heroes. Speaking of which, I'm going to give you one of the first clues. Here's a photo of his hand, which I picked because I have a total thing for a man's hands. He could be kinda homely, and if he has excellent hands, I'm a happy girl.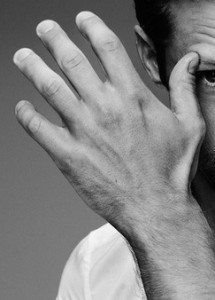 In real life, this guy's mama probably made meatballs for him and his brothers and sisters. He comes from a big family. He was voted Sexiest Man of (his home country.) In his career, he's been in the military and law enforcement. He is smokin' hot, just like Nick Robichaud in Out of Control, which you should go buy right now and read immediately.
I hope you'll join us for the Mystery Men event! It's going to be way fun, and who doesn't like to have fun?