The Last Duchess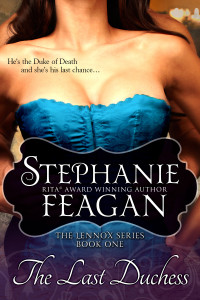 The Last Duchess
He's the Duke of Death and she's his last chance…
Michael, Duke of Blixford, was all Lady Jane Lennox ever wanted in a husband. Growing up with her gregarious widower papa and six raucous older brothers, Jane was drawn to the handsome, taciturn duke and purposefully set her cap for him. Unfortunately, despite his attraction to her, the duke was less than impressed with her unladylike skills, and after he proposed at the same time he called her his very last choice as his duchess, she fled to Scotland.

To keep the ducal title and holdings from reverting to the crown, Michael needs a wife to give him an heir – but he doesn't need to love her. Called the Duke of Death, a pariah said to have demon seed, Michael has lost three wives in childbed. His worst nightmare is following his father into grief driven madness after the woman he loved died. His iron discipline failed him four years ago when he succumbed to his fascination with Jane, and his fury was great when she jilted him. Now, she's returned to London and, just as he is her only choice, she is his last chance.

She's determined to have a real marriage; he's determined to hold her at arm's length. But when the past catches up and old ghosts demand their due, Jane is devastated, and Michael risks everything to save his last duchess from permanent ruin. All he has to do is not fall in love.
Available now in eBook and print from
AmazonBarnes & NobleKoboiBooksRead an excerpt Return to Books by Stephanie Feagan