The Mephisto Covenant Series:  Book 1
The Mephisto Covenant: The Redemption of Ajax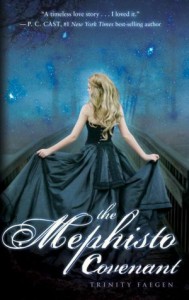 Egmont USA
Sasha is desperate to find out who murdered her father. When getting the answer means pledging her soul to Eryx, she unlocks a secret that puts her in grave danger—she is an Anabo, a daughter of Eve, and Eryx's biggest threat.
A son of Hell, immortal, and bound to Earth forever, Jax looks for redemption in the Mephisto Covenant—God's promise he will find peace in the love of an Anabo. After a thousand years, he's finally found the girl he's been searching for: Sasha.
With the threat of Eryx always looming, Jax knows he has to keep Sasha safe and win her over.  But can he? Will Sasha love him and give up her mortal life?
"A timeless love story with unique mythology that captivates the imagination. I loved it."—P.C. Cast, #1 New York Times best-selling author of the House of Night series
"Trinity Faegen bursts onto the young adult scene with an exciting debut novel told in a fresh voice, and with a unique spin on a timeless tale."—#1 New York Times best-selling author Sherrilyn Kenyon
"This is a fantastic book with everything a paranormal fan craves, from action to suspense to an absolutely sizzling romance. Fans of P.C. Cast and Lauren Kate will not regret buying this book. Faegen is an author to look out for!"— 4 Stars RT Book Reviews
The dialogue flows smoothly and includes many contemporary idioms. The plot is adventurous, fast paced, and gripping. Descriptions of bullying, peer pressure, and loneliness are brutal but accurate. Mephisto Mountain, where Jax and his brothers live in luxurious splendor, would tempt anyone to move in, and Sasha eventually does. Faegen has created a dangerous universe fraught with evil, but free will wins out. A surprise ending caps the story.- VOYA
"The Mephisto Covenant is a unique compilation of YA romance norms with subtle, yet impactful, differences. Trinity Faegan creates a world where characters are realistically pure in their actions and motives. No character, villain or hero, is simply good or evil and free will is not only a right but a responsibility. This harmonious dance of right and wrong is presented an unassuming book and is a must read for any fan or skeptic of the genre." – Literary Escapism
Hardcover ISBN: 978-1606841709
eBook ASIN: B004J4X31Q
Paperback ISBN: 978-1606843888
Read an excerpt Return to Books by Trinity Faegen
Read More