Out of Control Release Day!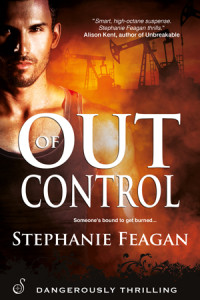 I'm so thrilled it's finally here! Release day for my romantic suspense, Out of Control! Always a happy, happy day when a new book hits the stands, and I'm so hopeful you'll enjoy it. RT Book Reviews magazine gave it their highest rating – 4 1/2 stars! – and had this to say:
Plenty of action and suspense will draw readers in right away. An intriguing plot and fresh premise combined with Feagan's unique voice and sizzling chemistry between Blair and Nick make this story a keeper.
The lovely Debbie Suzuki, my publicist at Entangled, arranged a blog tour for Out of Control.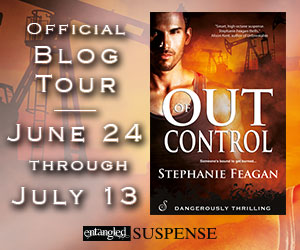 Be sure to check it out and enter to win one of 2 $25 gift cards I'm giving away – 1 to Amazon and 1 to B&N! The first stop is today at My Reading Room. Many thanks to Crystal for hosting me!
You can read more about Out of Control, along with an excerpt and buy links – it's only $2.99! – here.
Read More